About Me
Well, I'm a fangirl, maybe a really crazy one.
I'm from Mexico and I can speak spanish (my language), english, a little bit of japanese, and french.
I love most of all groups of Johnny's Entertainment, I also love L'arc en ciel and D-Boys.
As for korean music I love ShinHwa, 2PM, Teen Top, B2ST, MBLAQ, Super Junior, (a little bit of) SS501, DBSK, SHINee, etc...and I don't like girl groups...except for miss A...
And above anything, I like yaoi, boyxboy...and I guess that's it...
…and they give a question to Joe 
And he asks the boys…
…and ChunJi's answer was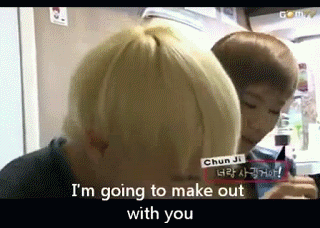 O.o